The new way: Narrowband IoT (NB-IoT)
GSM-based communication has reached a new level lately even in the security industry. As a result of the latest developments, a cheaper, more stable network has become available with low maintenance costs. From the perspective of security developments, it is remarkable.
The NB IoT was designed to use where the operation of general M2M channels E.g.: mobile network, DSL, WLAN, or Bluetooth is not cost-effective, or simply it does not meet the requirements. The solution can be operated on the existing networks. It uses the 3GPP standard which means that it works in the licensed spectrum that is assigned to a certain operator. Hence, it allows reliability and a future proof operation. The cheap and low power NB IoT network offers better coverage and efficient internal usage to its users.
The low consumption and the large coverage are the two fundamental features of the NB-IoT/LPWA networks.
It is beneficial on a number of areas such as: 
Smart Meters – NB-IoT gas and water measuring
Smart City – Public lighting and monitoring parking lots
Logistics – tracking containers
Industrial NB-IoT pallets and pipelines
 The advantageous of NB IoT compared to the available technologies: 
Safe – It complies with the requirements of the LTE network. It provides a secure data connection.
Existing infrastructure – It works on the existing LTE network. There is no need for additional investments.
Based on standards – The solution does not depend on any manufacturers or providers.
Comprehensive industrial support – This new standard is supported by many manufacturers and companies including telecommunication providers and chipset producers. Therefore, it is a safe and long term possibility!
Two-way communication – Two-way communication is inevitable for message sending. Howbeit, the devices allow remote management.
It works in an official band – The error-free and stable operation of the networks is provided in the long term.
NB IoT in the security industry 
In the past years, the providers have stopped developing the 2G/3G networks in many European countries. On top of that, they have even shut these networks down completely and many plans to operate only the 4G/5G networks in the future. Therefore, 2G/3G compatible products might become unable to continue to work. Hence, the LTE CATM1 and NB1 compatible products allow reliable operation independently from the changes of the providers.
To use the NB IoT networks, it is necessary to require an NB IoT SIM card from the provider. The IPCOM NB IoT is capable of operating on the LET CAT M1 and NB1 networks. However, if there is no coverage on an area, it can still use the GSM network.
IPCOM / NB-IoT (4G) with programmable inputs/outputs, encryption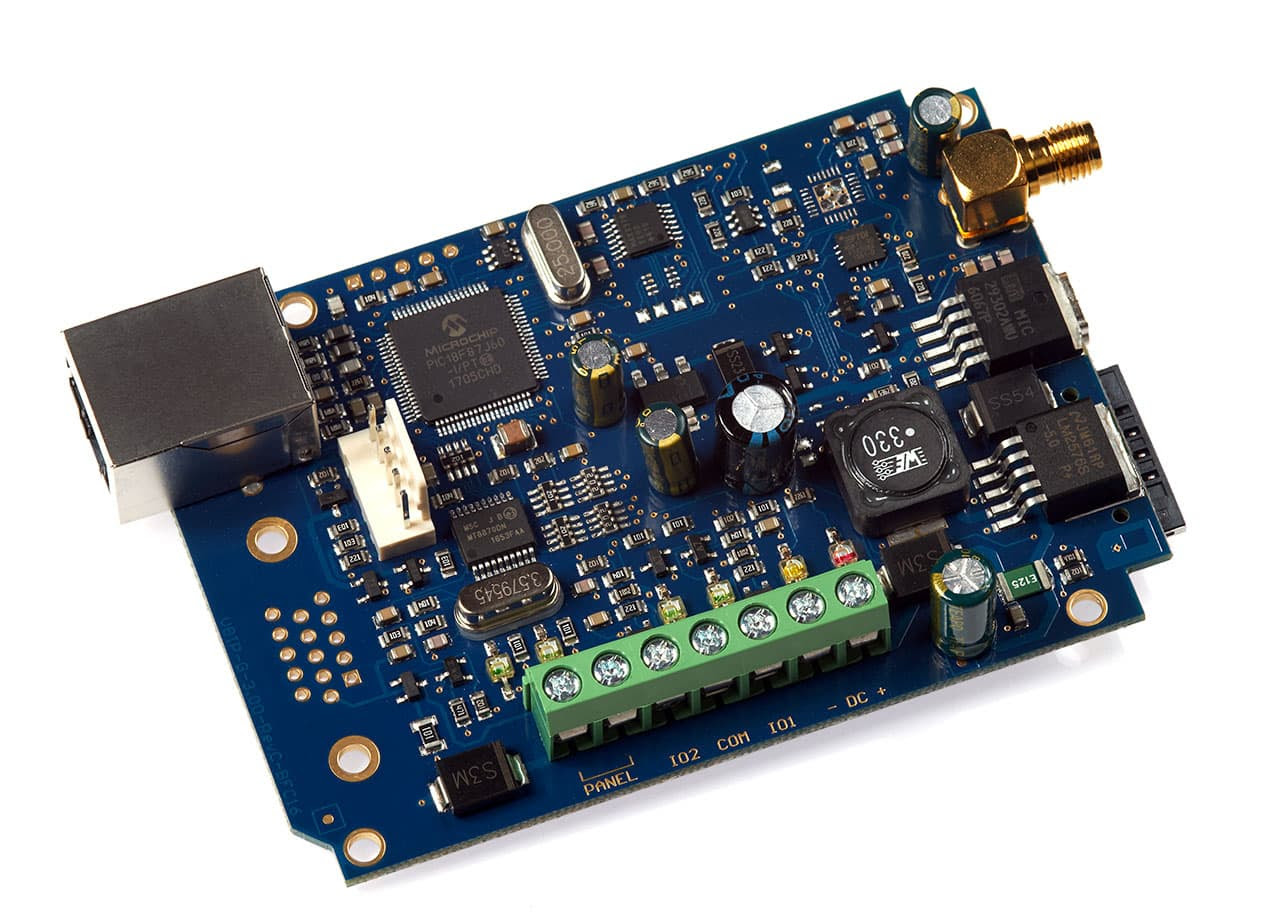 Immediate two-way transmission (Contact ID)
2 inputs/outputs
Automatic configuration of network settings (DHCP)
Encrypted communication (AES-128)
Remote programming (through IP)
Communication channel: IP/2G/3G/4G/CAT1.M1/CAT.NB1
Controlling the output with 8 phone numbers
Output extension to up to 16 outputs
SIA DC09/Normal CID/Enigma
Comparing table of the IP and IoT products